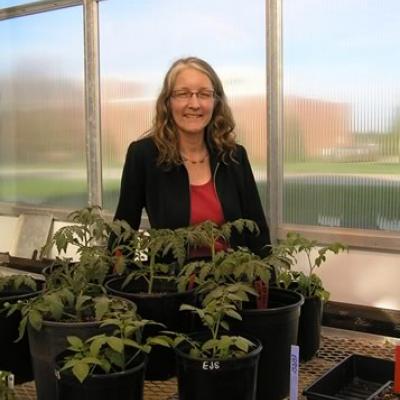 Courtesy Faculty in Plant Biology
(home department: Horticulture)
Professor
Office:
124 CAGT, 111 Riverbend Road, Athens, GA 30602
Biography

Dr. van der Knaap is a plant geneticist and molecular biologist. In September 2015, she moved her program to Horticulture and the Center of Applied Genetic Technologies at the University of Georgia, Athens. Her research is focused on the regulation of fruit shape and size of tomato and other Solanaceous crops.
Research

Grants:

NSF-PGRP 2015- "Exploitation of genetic and epigenetic variation in the regulation of tomato fruit quality traits". PI, Esther van der Knaap UGA. CoPIs: Ana Caicedo, University of Massachusetts; Denise Tieman, University of Florida; Lukas Mueller, Boyce Thompson Institute/Cornell.
Collaborators: Jose Blanca, Joaquin Cañizares, Maria Jose Diez, Universidad Politécnica de Valencia; Sofia Visa, Simon Gray, Dean Fraga, College of Wooster.
USDA NIFA 2013- "Identification and evaluation of tomato fruit weight alleles in tomato breeding germplasm". PI, Esther van der Knaap UGA. Collaborators: Sam Hutton, Univ of Florida; Dilip Panthee, North Carolina State Univ; David Francis, Ohio State Univ.
Selected Publications
Education

Education:

Ph.D. Genetics, Michigan State University 1998