The Greenhouses at UGA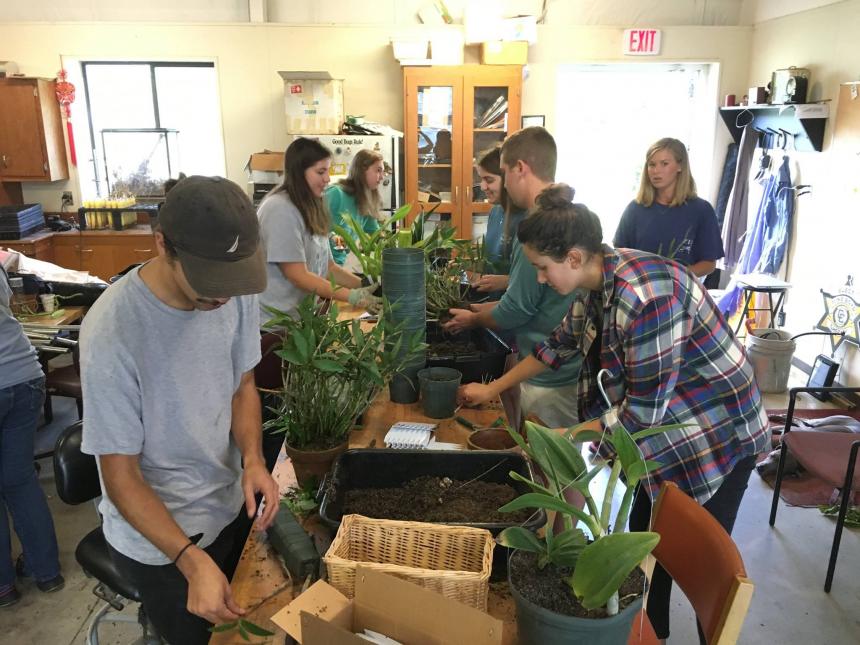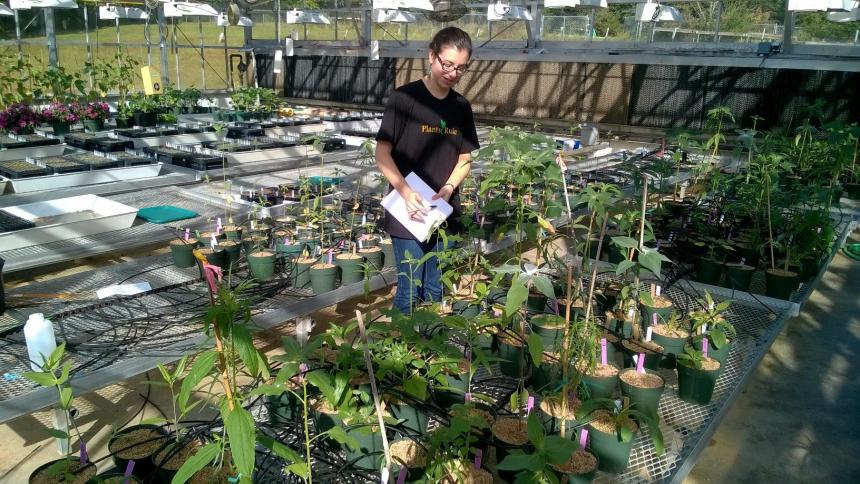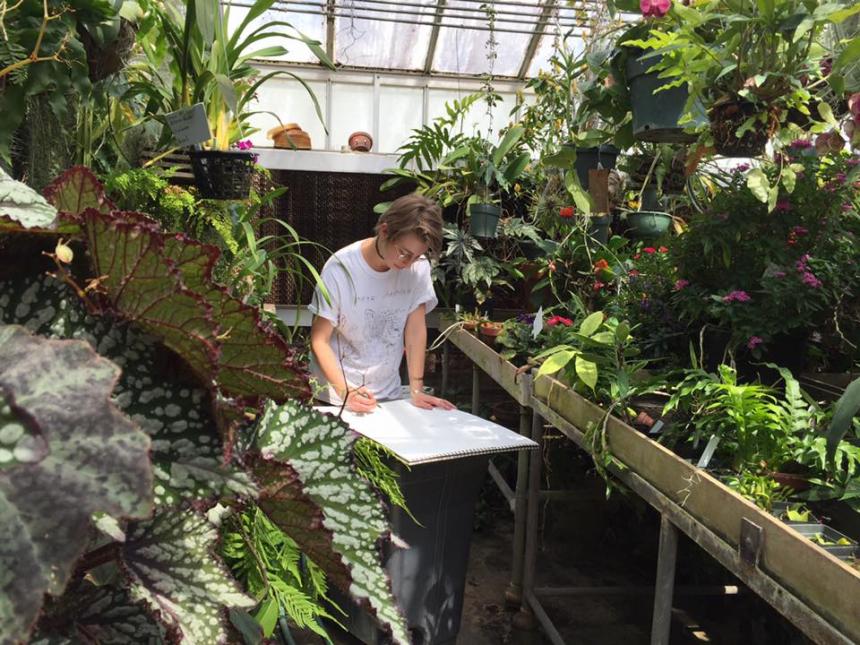 The greenhouses support both research and teaching activities in Plant Biology. While most of the greenhouse space is reserved for research, an extensive collection of plants is maintained for teaching.
The Department of Plant Biology maintains seven greenhouses with a floor area of approximately 24,000 square feet, along with a transplant garden area and lath house, 18 growth chambers, and three walk-in growth rooms. All greenhouses are connected on the north side to a common headhouse or service building that includes a small laboratory, work areas for potting, cold storage, offices and supply rooms.
Greenhouse staff
The Plant Growth Facilities are under the supervision of Michael Boyd; he also takes care of research projects in greenhouses five and six, and the plant collections in greenhouse three.
Noah Heatherington is responsible for research greenhouses five and six, and much of the teaching collection in greenhouse two.
Greg Cousins is responsible for teaching and research materials in greenhouses zero, one and two, and the production and delivery of all classroom materials.
We provide teaching materials
The Plant Growth Facilities and staff are available to grow plants for courses taught within the Biological Sciences Division. Requests should be presented in writing to Mike Boyd, who will ensure that plants are at the proper stage when needed. Please make sure that requests are made sufficiently ahead of time so that work can be planned well in advance, materials can be purchased, and plants have time to grow.
The greenhouse facility maintains diverse collections of tropical plants, cacti and succulents, seedless vascular plants, cycads, carnivorous plants, and orchids. Our staff will deliver requested plants from the collection rooms to the classroom, and will also return the plants to the greenhouses. Personnel in the teaching labs are responsible for watering demonstration plants while in use. Please make requests at least one week in advance to Mike Boyd. We welcome requested additions to the teaching collections, but unfortunately we are unable to handle requests for field-collected material.
Instructors are welcome to bring their classes to the greenhouse facility to visit the teaching collections, or to set up short-term projects. Please contact Mike Boyd at least two weeks in advance.
Tour groups from local schools and organizations are also welcome!
Research Projects Space
Faculty and students should submit requests for research space to Michael Boyd on the forms provided below. Project size and duration, current space availability, past performance, request lead-time and project importance are all considered when allocating space. Every effort will be made to provide space to all those who need it. Priority will be given to faculty, students, and staff in the Plant Biology Department.
First time users of the greenhouse facility should schedule an orientation session with the greenhouse manager before starting their projects. Keys will be issued by the manager, and should be returned promptly at the end of the project. Any delays in the completion date should be discussed as soon as possible.
The greenhouse manager has final authority with regard to space allocation.
Forms:
Plant Growth Facilities Research Space Request
Biological Sciences Growth Facility Supply and Maintenance Fees
Supplies
Commonly used containers, soil mixes, tools, fertilizers, and labels are available at no charge to personnel in the Department of Plant Biology. Requests for unusually large quantities of supplies, or unusual supply needs, require advanced planning and budgeting. Please consult with greenhouse staff concerning the location and use of available supplies.
Responsibilities
The greenhouse staff is responsible for:
watering and fertilization, including weekends and holidays, if these are not part of the experimental treatments
disease and insect control practices
providing horticultural supplies and soil mixes
assisting with the acquisition of seed and plant material
assisting with design, configuration of environmental conditions, planting and maintenance of projects
steam sterilization
 Greenhouse users will be expected to:
take charge in starting projects
carry out all experimental treatments and measurements
harvest plant material needed for experimental purposes
maintain an active role in the progress of the project
promptly notify the staff at the end of the project and assist with the disposal of unneeded plants
autoclave transgenic plant waste.
If you are using the greenhouse facilities, please make sure to stay in communication with the green house staff for smooth operations.
Growth Chambers
The department currently has 18 reach-in and step-in growth chambers. Twelve of these chambers are located in the headhouse building of the greenhouse complex and six are in B023 of the Life Sciences Building. In addition, the department shares space in three large growth rooms in B023 of Life Sciences. Since growth chamber space is limited, allocation of space will be based on the user's documented need for environmentally controlled or isolated conditions.
Photo Tour of the teaching collection
Primitive Plants




Desert Biome




Rainforest Biome




Special Collections