Image: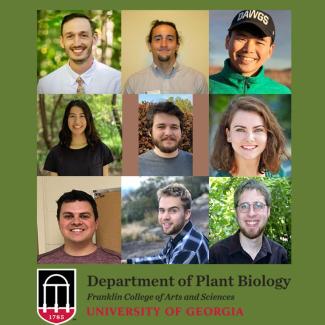 Coinciding with the Graduate and Professional student appreciation week (April 4-8) UGA announced that nine PBIO graduate students were awarded UGA research grants or fellowships, or were recognized for their contributions to UGA. Congratulations to all these students!
Philip Bentz (advisor: Jim Leebens-Mack) and Ethan Baldwin (Co-advised by Magdy Alabady and Jim Leebens-Mack) have been awarded International Travel Award by Graduate School
Yen-Ho Chen (advisor: CJ Tsai), Trevor Tuma (co-advised by CJ Tsai and Erin Dolan), Mia Rochford (co-advised by Jill Anderson and Jennifer Cruse-Sanders), and Kelly McCrum (co-advised by Jill Anderson and Anny Chung) have been awarded Summer Research Grants by the Graduate School
Patrick Smallwood (advisor: Dorset Trapnell) has been awarded the Sharitz-Hatfield Fellowship
Derek Denney (advisor: Jill Anderson), Brent Shuman (advisor: Michelle Momany), and Yen-Ho Chen (advisor: CJ Tsai) have been nominated to Graduate School for their efforts to build community for and with others during the past year of pandemic; thank you to your efforts, Brent, Derek, and Yen-Ho! 
Last but not least, we would like to thank all of our graduate students for their many contributions to the PBIO community last year! Your great efforts make this a strong graduate program!